Can govt really reduce foreign labour in construction?
3 November 2015 Print page
Story by
Khairie Hisyam
khairie@kinibiz.com
Nearly one year after saying foreign workers under the 6P amnesty programme would not see an extended stay, the government is now in early talks on allowing just that, sources tell KINIBIZ. At the heart of the matter is a wider issue of Malaysia's addiction to cheap foreign labour especially in the construction sector.
_________________________________________________________________________
In 1985, former finance minister Tan Siew Sin said that deporting the roughly 20,000 illegal foreign workers in plantations "was the surest way of ruining the nation's economy".
Tan was the head of Malayan Agricultural Producers Association at the time, also an owner of a plantation business. Fast forward 30 years later, the problem has gotten worse – we now count possibly more than four million foreign workers in total, both legal and illegal.
This issue appears as an area that the 11th Malaysia Plan (11MP), tabled in May 2015, seeks to tackle. Its economic agenda aimed to create 1.5 million jobs by 2020, eyeing improvements in productivity and reduced dependency on low-skilled foreign workers.
The latter specifically addresses a long-running issue – access to cheap foreign labour has kept some sectors labour intensive in nature while depressing wages. Particularly singled out in the 11MP were manufacturing, agriculture and construction sectors which employ a large proportion of existing foreign labour.
For the construction sector specifically, however, questions arise on whether the government is really walking the talk on the matter.
In the larger picture, the continued reliance on cheap foreign labour, both legal and illegal, presents an obstacle in the country's aspirations to shift towards a knowledge-based economy powered by high-skilled labour.
There are currently about two million registered foreign workers in Malaysia, according to Bank Negara Malaysia's 2014 annual report, with illegals estimated to be over two million strong, according to a past statement by the Immigration department.
As part of the five-year plan, the government is capping the proportion of foreign workers in the workforce at 15% by year 2020. Formulation of a comprehensive immigration and employment policy for foreign workers is to follow.
"Greater automation especially in labour-intensive activities, as well as migration to knowledge-intensive activities will be encouraged in all sectors of the economy," said the 11MP document, "particularly in the agriculture, manufacturing and construction sectors, which currently employ more than 30% of foreign workers."
Yet there may not have been sufficient signs of encouragement to date vis-a-vis the construction sector to lessen its reliance on foreign labour, despite the sector arguably being the easiest place to start.
Weak push for IBS
The construction sector has an estimated one million foreign labourers in total, both legal and illegal, according to Master Builders Association of Malaysia (MBAM) in an interview with KINIBIZ earlier this year. This makes the sector the logical place to start with at reducing Malaysia's reliance on foreign labour.
However, measures in the 11MP, as well as Budget 2016 tabled in end-October, raise questions on whether enough is being done to nudge the sector towards greater automation and less labour-intensive work.
For observers following the issue in respect of construction, an eye-catching allocation announced in Budget 2016 would have been a special fund of RM500 million to be placed under the SME Bank to promote the use of the Industrialised Building System (IBS) for G5 contractors and below.
The allocation makes a lot of sense as greater use of IBS among contractors would encourage more machinery-based work, which would in turn reduce the need for on-site labour.
Also known as pre-fabricated construction, IBS is essentially a method of construction whereby construction components are pre-manufactured and put together on site via machinery.
This contrasts directly with the more traditional method of transporting raw materials such as bricks and cement to the construction site before labourers manually construct the structure on site.
There are pros and cons to the IBS method, though a clear benefit of adopting the system would be a reduced need for human workers in favour of heavy machinery. In turn, it fits perfectly with the national agenda of reducing dependency on foreign, low-skilled labour.
However, the allocation was not accompanied with another measure which would have logically followed – a reduction of import duties for heavy construction machineries.
This particular reduction had been asked for by the construction sector for years. At present, the overall cost of operating in a labour-intensive manner remains cheaper than switching to an IBS-based system, said MBAM.
"It comes back to economies of scale," said MBAM president Matthew Tee Kai Woon to KINIBIZ in an interview earlier this year. "If there is a push for standardisation, then there will be economies of scale for using IBS."
Flip-flop on 6P?
While the government's push for IBS adoption in the construction sector had not been as strong as it should have been, questions remain on the existing foreign workforce in the country and how the country will be weaned off its dependency on them.
A logical measure would be a transition process whereby labour-intensive sectors such as construction shift towards a more machinery-oriented environment. In fact, such a process had arguably started.
It goes back to October 2011, when the government launched the 6P amnesty programme to resolve the issue of illegal foreign labourers including those who overstayed their work permits. The programme sought to register and legalise these foreigners, allowing them to stay two or three years in employment depending on which sector they are involved in.
According to Bernama, some 521,734 foreigners were legalised under the programme. At the time, the programme would have signalled a transition as certain sectors would have prepared for the eventual exit of the legalised foreign workers.
However, subsequent developments proved otherwise, culminating in a public plea by the construction sector on Dec 15, 2014 for their permits to be extended in the face of a mass exodus.
In a joint press conference, MBAM alongside various construction industry groups said at the time that some 503,000 foreign workers under the 6P programme are set to depart the country by Jan 5, 2015, sparking concerns as a fifth of that number comes from the construction sector where labour shortage is already a concern.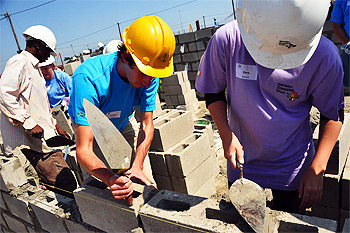 Implicit in the public appeal was that the sector had not been able to wean itself off the foreign labour dependency despite several years since the 6P programme was initiated.
The government granted the request several days later on Dec 18, 2014, in consideration of how such an exodus would affect the national economy and business operations. However, the Home Ministry warned that businesses must plan for the exit of these foreign workers.
"There will be no more extension. The government will not compromise with employers who failed to comply with policies," said Home Ministry acting-secretary-general Alwi Ibrahim on Dec 18, 2014.
Fast forward 11 months later, the government is now in preliminary talks on allowing the foreign labourers under the 6P programme to extend their stay, though likely in a new form, said sources to KINIBIZ.
No end in sight
While a lot of details have yet to be finalised, said sources, the move taken together with a half-hearted push for IBS adoption in the sector so far raises concerns that the dependency on foreign labour will only be exacerbated.
In turn, the question that must be asked is, as things currently stand, whether Malaysia will be able to shake off its foreign labour addiction. For the construction sector specifically, it is essentially a chicken-or-egg dilemma.
Adopting IBS would reduce reliance on foreign labour, yet higher initial costs deter profit-oriented construction players, who say economies of scale must be present before such a move makes business sense.
On the other hand, without mass adoption by the construction sector it is difficult to see how economies of scale can be achieved.
This necessitates a government intervention that promotes IBS adoption in a more holistic manner that tackles the hurdles more directly. KINIBIZ delves into this and more in next articles.
Source: MalaysiaKini