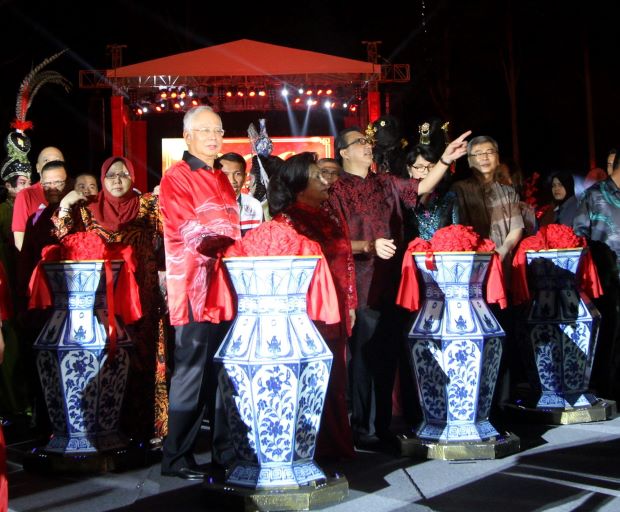 BENTONG: Malaysia will continue to be a peaceful and harmonious nation because multiculturalism and moderation are accepted and practised by its people, said the Prime Minister.
"We accept multiculturalism and we do not politicise, we do not have extremism because we practise moderation, or wasatiah," said Datuk Seri Najib Tun Razak.
He said Malaysians live in peace and harmony because the founding fathers of the nation, such as Tunku Abdul Rahman, Tun Abdul Razak, Tun Tan Cheng Lock and Tun V.T. Sambanthan, laid down the foundation for everyone.
The Federal Constitution also stresses respect for each other's diversity, in terms of culture and language, he said.
To underscore this, the Prime Minister pointed to the lion dance performance at the national Chinese New Year open house here last night, where he saw that a Malay boy was one of the main dancers.
The dancers, from the award-winning Kun Sen Keng Lion and Dragon Dance Association, had gone on stage to shake hands with the guests of honour.
Najib said every religion preached moderation.
"The problem lies not with religion, the problem is extremism. Islam has IS (the Islamic State terror group), those are extremists.
"Buddhism also has its extremists … because in the Rakhine State, Myanmar, many Rohingyas are being killed although in reality, Buddhism is a religion of peace.
"There are also extremists in Christianity, like in Bosnia where many people died during a civil war.
"If we go on accepting moderation, Malaysia will continue to be peaceful," he said.
Najib also assured the people that he would take the nation to greater economic heights.
Other guests of honour at the open house were Najib's wife Datin Seri Rosmah Mansor; Transport Minister Datuk Seri Liow Tiong Lai and his wife Datin Seri Lee Sun Loo; Tourism and Culture Minister Datuk Seri Nazri Aziz; Plantation Industries and Commodities Minister Datuk Seri Mah Siew Keong; China's ambassador to Malaysia Dr Huang Huikang; and Pahang Mentri Besar Datuk Seri Adnan Yaakob.
In his speech, Liow said Bentong was quickly transforming and developing into a satellite town of greater Kuala Lumpur.
He thanked Najib for developing the capital and turning it into a catalyst for the country's economic development.
"Although the global economy is not really picking up, Malaysia still sees a continuous economic growth of between 4% and 5% under his leadership," Liow said.
He added that Najib's presence at the function reflected the Government's commitment to all Malaysians.
Liow thanked Nazri for allowing Bentong the honour of hosting the celebration.
As for the 2050 National Transformation initiative to chart the future of the country, he urged the people to give their full support and to be involved in the planning and brainstorming.