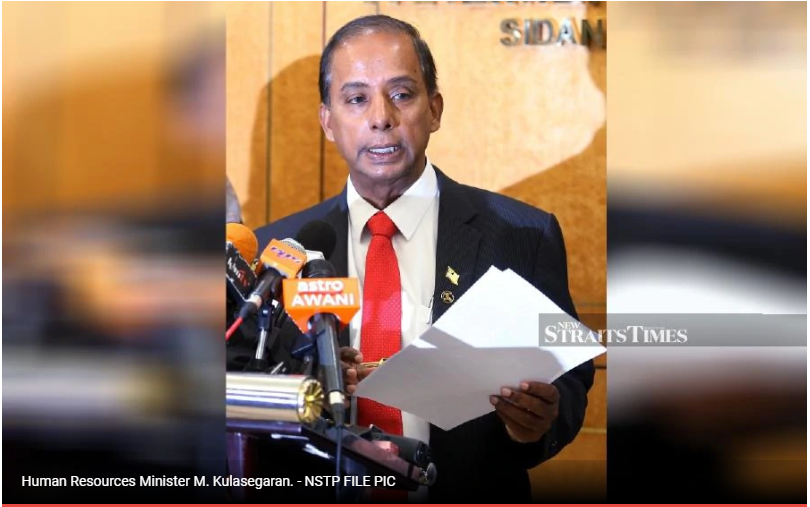 KUALA LUMPUR: Non-governmental organisations are backing the government's move to reinstate the foreign workers replacement system for all sectors.
Recently, Human Resources Minister M. Kulasegaran presented a paper to Cabinet on reviving the mechanism for finding quick foreign worker replacements which was suspended in 2017.
The move will help employers save time and money in dealing with shortage of manpower to run their businesses said the minister.
Malaysian Trades Union Congress (MTUC) secretary-general J. Solomon in welcoming the move urged the government to address the issue of foreign workers in a more holistic manner and ensure that they knew their rights and were not exploited.
"MTUC welcomes any effort made by the Cabinet to resolve unemployment and shortage of labour in the country.
"MTUC had repeatedly suggested to the government the need to address the foreign workers issue holistically instead of dealing on an ad-hoc basis.
"We also need to have a proper system in place to prevent the continuous dependence on foreign workers.
"At the moment, we have approximately 10,000 foreign workers entering Malaysia monthly legally and it is anyone's guess how many are here illegally".
Solomon urged the government to facilitate legalisation of illegal foreign workers who could replace foreign workers who had absconded.
The government could also deport the excess legalised workers by executing a proper constructive mechanism on amnesty, he added.
"In the long run, we want our foreign workers to be legal and to be aware of their rights so that they will not be exploited by their employers," he said.
Malaysian Employers Federation (MEF) executive director Shamsuddin Bardan also welcomed the move and urged that the reinstatement be done fast as employers were facing a shortage of workers.
"It is something that should be implemented quickly," he said.
"Many employers are facing difficulties hiring people.
"The old system was proven to be working last time. It was a faster process and a lot of time and money was saved.
"It was suspended as a measure to control the number of foreign workers in the country.
"However, the government should consider employers' needs to ensure they hve enough manpower," he said.
Master Builders Association Malaysia (MBAM) president Foo Chek Lee said Kulasegaran's statement would give assurance to employers that their businesses would not be interrupted by lack of manpower.
"MBAM supports the move as it can help resolve the shortage of labour in the country.
"The previous system was an effective avenue for employers to replace workers and to enable employers to quickly meet their work obligations, especially when we now have a shortage of workers.
"The current process takes an estimated nine weeks while the previous replacement process could take between one and two weeks, provided all the necessary documents were in order.
"The reinstatement should be implemented immediately to save time and cost, which will help move the construction economy forward," he said.
Kulasegaran's Facebook page saw a variety of remarks posted in relation to the reinstatement of the previous foreign workers replacement system.
Muhammad Faiz Dave commented: "Before bringing in new migrant workers for replacement purpose, please make sure there is no middle men involvement as those workers need to pay high (amount) as to come and work with empty promises. Local government should take serious actions towards agents who are charging very high as to bringing them to here."
Jasbeer Singh commented: "Make all applications transparent and online."
Andie Lim commented: "Businesses are closing or shrinking dude, be quick. Otherwise it's downside for tax collections, local management employment and customers' needs."